Dining
Whether it's lunch with a friend on the Clubhouse terrace overlooking Watson Lake or a birthday dinner for the entire family, the CCNC Clubhouse and dining facilities provide a variety of venues for dining throughout the day, from casual comfort to formal ambiance. The Dogwood Pub with its outdoor Terrace, the Members' Lounge, and the Men's 19th Hole offer cocktails and casual fare, while the Cardinal Dining Room provides a more formal setting with traditional and gourmet selections. Lighter fare is also available at the Dornoch Grille (including breakfast), the Cardinal Halfway House, and poolside at the pool snack bar.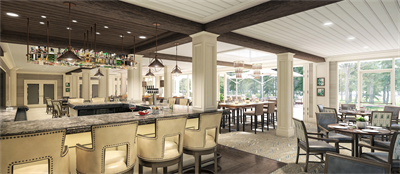 Dogwood Pub (Clubhouse) - Casual Dining & Bar
*Architect Rendering - Re-opening December 2020

Dogwood Pub Outdoor Terrace (Clubhouse) - Casual Dining
*Architect Rendering - Re-opened Fall 2020

Members' Lounge (Clubhouse) - Casual Bar
*Architect Rendering - Re-opening December 2020

Royal Dornoch Ballroom (Clubhouse)

Dornoch Grille (Golf Venue) - Breakfast & Halfway House
The CCNC community comes together throughout the year, building family traditions, strengthening lifelong friendships, and creating new friendships as the membership grows. Members and their guests have enjoyed special events, such as Member Socials, Jazz Night, Gourmet Tastings, Family Game Night, Chef's Tables and Oyster Roasts.
Traditional holiday events include Brunch with Santa, New Year's Eve Celebration, Easter Egg Hunt and Brunch, Memorial and Labor Day Picnics, Mother's Day Brunch, and Fourth of July Festivities featuring the Club's spectacular private fireworks display.