Amenities
Accommodations
One of the outstanding amenities offered by the Country Club of North Carolina is the Club's Rental Home Program available to members and their guests during visits to the Club. The fully equipped homes have from 2 to 5 bedrooms with private baths and are very comfortable to accommodate a short weekend stay or an extended vacation. Sponsored guests using the homes are also afforded the privilege of using other Club amenities including golf, tennis, pool and dining facilities.

Fitness Center
Opened in 2017 and featuring a variety of fitness equipment for all ages and abilities, the CCNC Fitness Center is located in the lower level of the 5,400 square foot Tennis and Fitness building overlooking beautiful Lake Watson. The center is open from 4:00am to 10:00pm daily and accessible via individual FOB. Along with the wide range of available equipment, personal training is available through Director of Wellness and Certified Personal Trainer, Al Van Vliet. Further details on the available fitness equipment can be found here.

Pool Complex
With its hilltop setting and spectacular view of Watson Lake, the swimming pool, with snack bar and activity center, is the perfect summer setting for family activities from Memorial Day to Labor Day. The pool is fully staffed with trained lifeguards and swim instructors. Golf-Tennis-Swim Camps, Tennis-Swim Camps, the CCNC Swim Team, and a summer day camp program are available for families.
Social Clubs
Bridge, Mahjong, Garden Club, and Couples' Bridge are all hosted by groups throughout the year, and they are open to members interested in participating. In addition, the Club hosts member mixers and events that help to introduce you to other members.

NATURE TRAIL, FISHING, CANOEING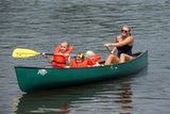 East Lake, the Club's new 125-acre neighborhood, hosts a 4-mile community walking trail with two timber bridges, creating an additional recreational spot for members. Over 300 evergreen and shade trees enhance this special landscape and undisturbed wetland area. Both Watson Lake and Lake Dornoch provide a quiet and relaxing experience for kayaking enthusiasts and fishermen alike. Fishermen have an opportunity to catch brim, crappie, largemouth bass and pickerel (jackfish) while kayakers may commune with the extensive list of wildlife that call CCNC home.
CHILDREN'S PROGRAMS & ACTIVITIES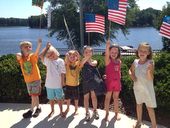 There are many children's programs available to members throughout the year, and especially during those summer months when school is out. A variety of golf, tennis and swim camps, which provide wonderful experiences with our professional staff, are offered throughout the summer.
In addition to summer programs, the Club hosts many family friendly activities and events, such as Junior Snow Ball, Summer Jam, Pumpkin Carving & Costume Contest, and Santa Brunches.